This timeline highlights some important milestones in Norwegian immigration, with special focus on the Norwegian Ridge area. Two other excellent timelines by the Telelaget of America and the Promise of America are more complete.
1821: Cleng Peerson travels to America as an agent for hopeful emigrants; returns briefly to Norway in 1824 impart what he has learned about America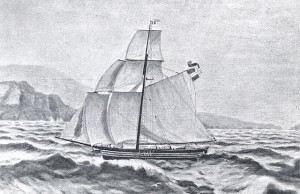 1825: Sailing ship Restauration leaves Stavanger, Norway, for New York City with 52 brave emigrants who, as Quakers and Haugeans, sought relief from religious persecution in Norway. On their 14-week journey, they sailed south to Madeira, an island off Portugal, then crossed the broad expanse of the Atlantic. They reached the Caribbean having run dry of water (due to a disastrous misunderstanding in Madeira), and had further problems upon reaching New York: The ship carried more passengers than permitted by immigration laws and the captain of the ship was held in jail until the fines could be paid. Greeted in New York by Cleng Peerson, the group made their way across the Erie Canal to settle in Kendall, New York, on the banks of Lake Ontario. Eventually, part of the group traveled on to Illinois and Wisconsin. Though other Norwegians (mainly sailors) emigrated at earlier dates, the Restauration was the first organized emigration from Norway to America
1836: Two more Norwegian ships, Den Norske Klippe and Norden, depart for America, marking the beginning of continuous emigration to the New World. Small settlements around Chicago and eastern Wisconsin welcome increasing numbers
1836: Wisconsin Territory is incorporated. Norwegian immigrants begin to establish pioneer communities across southern Wisconsin, following the general westward movement of the population
1837: Ole Rynning, an emigrant, publishes True Account of America for the Information and Help of Peasant and Commoner, an account of immigrant life in America. This somewhat idealized account sparks an interest in emigration in many impoverished Norwegian farmers
1838: Iowa Territory is incorporated
1840s: Muskego, Koshkonong and other small Norwegian settlements in southeastern Wisconsin are established; they will later serve as a stepping stone for immigrants moving to the Norwegian Ridge area
1846: Iowa becomes the 29th state in the Union
1848: Wisconsin becomes the 30th state in the Union
1849: Minnesota Territory is incorporated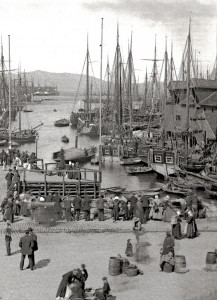 1849: British government repeals the Navigation Acts, enabling boats to carry freight from Canada (still a British colony) back to Norway. Ship owners now prefer the more profitable Canadian route, which landed emigrants at Quebec rather than New York. Emigrants found easy passage on Great Lakes steam ships from Quebec to Lake Michigan. Pioneer settlements in southern Wisconsin host many new westbound immigrants traveling via oxcart from Lake Michigan's southern cities of Milwaukee and Chicago.
1850: 13,000 Norwegian Americans are counted in the US Census
1850: A dozen families that moved west from Dane County, Wisconsin, are the first Norwegian settlers in Winneshiek County
1851: First settlers arrive in Waterloo Township
1852: Influx of Norwegians settle in Highland Township
1854-1856: Anti-immigrant sentiment in America reaches a peak as the "Know-Nothing" movement prevents Germans and Catholics from voting and holding city jobs; Norwegian immigrants face challenges to acceptance.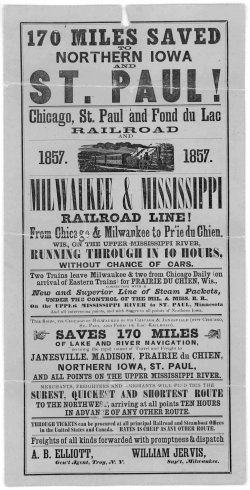 1857: Milwaukee and Mississippi Railroad completes rail link from Chicago and Milwaukee to Prairie du Chien, Iowa, shortening a week-long ox-cart trip from Lake Michigan ports to a 10-hour train trip to the Norwegian Ridge area. The LaCrosse and Milwaukee Railroad completes a line to LaCrosse, Wisconsin, in 1858.
1858: Minnesota becomes the 32nd state in the Union
1862: The Homestead Act becomes law, promising 160 acres of free or cheap land to those who would make a home on undeveloped in the new territories west of the Mississippi River.
1862: Dakota War: Native American reprisals against immigrants for the occupation of their land trigger armed conflict between the Dakota people and the US Army. Southern Minnesota and the Red River Valley flare in small conflicts. Conflict ends with the largest mass execution in American history in Mankato, Minnesota, in 1863, in which 38 Dakota were hanged in a public spectacle. When Dakota are forced onto reservations, land is opened for continued western settlement from the Norwegian Ridge area
1864: 50th anniversary of Syttende Mai, the Norwegian Constitution Day, promising independence but resulting in a century of Swedish rule. Lower classes (laborers and farmers) face intense economic and social pressures, and an agricultural crisis adds to a sense of disillusionment. Many are eager to join their kinfolk in America who have sent a steady stream of "Amerika brev" (letters) that paint a rosy picture of prosperity and opportunity.
1865: 80,000 Norwegian Americans are counted in the US Census
1865-1873: End of the US Civil War leads to first major wave of Norwegian emigration, with 110,000 Norwegians crossing in this period. Transatlantic steamships and reformed immigrant passenger laws provide improved conditions for emigrants, and the average crossing time is cut by more than half versus sailing ships.
1868: The Fourteenth Amendment provides that "All persons born or naturalized in the United States, and subject to the jurisdiction thereof, are citizens of the United States and of the State wherein they reside." Foreign-born immigrants still need to follow the path to citizenship, but children born in America are automatically conferred citizenship. Naturalization records can be an important resource for genealogical research.
1870: Around two-thirds of sailors working on Lake Michigan are Norwegian-Americans
1874: Decorah-Posten begins publishing a weekly Norwegian-language newspaper in Decorah, Iowa, which featured news from Norway and a cartoon series ("Han Ola Og Han Per") that highlighted the foibles of the Norwegian immigrants struggling to make a home in a new land
1880s: Norwegian migration to Minnesota concentrates in Minneapolis; emigrant demographics shift from rural families to urban laborers
1880-1893: Second major wave of Norwegian emigration, with an average of more than 18,000 leaving annually
1889: North Dakota becomes the 39th state in the Union, and South Dakota becomes the 40th state in the Union
1900-1910: Third major wave of Norwegian emigration
1910: One million Norwegian Americans are counted in the US Census
1918: Iowa's Governor William L. Harding issues the so-called "Babel Proclamation," requiring that "only English was legal in public or private schools, in public conversations, on trains, over the telephone, at all meetings, and in all religious services." Though targeted at German immigrants (who somehow were blamed for WWI), the law similarly affected Norwegians and other ethnic groups in Iowa.
1921: The Emergency Quota Act establishes immigration limits per country. The following Immigration Act of 1924 establishes a quota proportional to the foreign-born populations in the 1920 census.