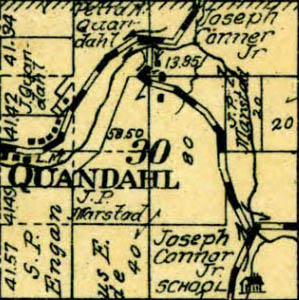 A once-thriving village nestled into the Bear Creek valley, Quandahl's history followed the path of so many other small country towns in the mid 20th century, except for how it ended: On an early October morning in 1966, the entire village went up for auction.
Ladies of Waterloo Ridge Church served refreshments. Ozzie (Osmund) Quandahl, one of the great-grandsons of village founder Nels Jacobsen Quandahl, played the part of auctioneer, with three others, to sell off six houses and various structures that remained. They did it, he said, because "we hated to see the places empty, and every owner wanted to sell, so we decided on this unique way of doing it. We think persons interested in having a weekend place for fishing and hunting may want to buy these places." Indeed, around 1000 people turned up in tiny Quandahl on Sunday, October 2, 1966, to give new life to what had already become a ghost town.
"This is one of the finest fishing and hunting areas in Iowa, and when we tell this place, the scenery goes right along with it," said Ozzie Quandahl, starting the auction. Bright fall colors were just coming into the trees and temps were in the mid-60s.
Most of the thousand people were curious onlookers, the newspapers said. Yet all the properties in town sold that day, raising a total of $15,330 – or roughly the cost of a single new home in 1966. To keep things interesting, the audience would record guesses for the sale price; the closest guesser would win a canned ham.
Already gone from Quandahl was the Arctic Spring Creamery, one of the first in Allamakee County; its stone structure was razed by 1966 and it then was a popular fishing spot. The creamery started in the 1890s as a private enterprise by J. D. Johnson, and was purchased by the community in the early 1900s and turned into a cooperative. Under butter maker M. E. Bakken, the creamery produced 75,000 lbs of butter per year which was brought to market in Spring Grove; in 1927, butter maker Olaf Goodno produced 100,000 lbs of butter and the creamery was reported to be thriving, though it would shortly go out of business.
Also defunct was a chance at revival. In 1945, the Brooklyn, NY, camera parts manufacturer Mansfield Industries moved into the former Quandahl mercantile store and supported 15 workers who lived nearby. Mansfield was run by Theodore Frumpkin of Brooklyn, who had married Norma Quandahl in Chicago and moved into the old mercantile store. By 1948 manufacturing activity was forced to move to Spring Grove because Quandahl had no electricity supply and the equipment had been operating on gas generators; the old Quandahl store continued to function for a time as an assembly plant. The local business did very well, growing to a $35 million operation (1962) headquartered in Chicago. Sylvania bought out the company in 1964 and the Spring Grove plant closed.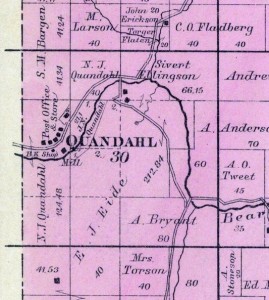 Around 1900 and at its peak population of about 60, Quandahl was also home to a grist mill, a dry goods store, a hardware store, a grocery store, a bank, a blacksmith shop, a shoe maker, and the nearby Bear Creek Woolen Mill. From 1920 to 1940 there was an American Legion post named after saw mill and feed mill owner Lewis H Morken, who died in battle on the last day of World War I.
Town founder Jacob Nelson Quandahl, wife Sigrid, and sons Nels and Peder immigrated from Norway in 1854 and lived briefly in Winneshiek County. After moving to section 30 of Waterloo Township, Allamakee County, in 1857, Jacob Quandahl started a mercantile store. Eventually, Nels would run the store and act as postmaster and Peder would operate the grist mill. Jacob Severt Quandahl would take over the mercantile store when his father died in 1910; his business had "a large and constantly increasing patronage being accorded to him in recognition of his upright and honorable business methods, his known reliability and his earnest desire to please his patrons." Their store and grist mill closed in 1929; the bank, which opened a new building in 1919, closed in 1928.
Business declined due to the Great Depression and advances in manufacturing, transportation, communications, and farming. Jacob Severt Quandahl attributed the decline to "too many other towns in the vicinity drawing the farm trade." The village of Quandahl slowly died. The remaining properties that sold in 1966 were:
Quandahl Savings Bank house, sold by Mrs. Sander (Carrie) Quandahl (mother of Ozzie) to Harold Ness of Decorah for $2100, including the foundation and vault of the destroyed bank
63-acre plot with a house sold by Mrs. Quandahl for $4980 to Ronald Gavle, Dorchester
Ozzie Quandahl house, a 4-bedroom structure with an ice house, known as the "shoemaker place" and also the "old Erickson place," sold to Elmer, Jack and Bessie Peterson from Cedar Falls for $750. They planned to remodel it for use as a summer home. "My son and I will use it for trout fishing on weekends," Elmer Peterson explained
Johannes Sollien home. Bidding failed to meet the reserve price of $2500; Sollien sold the property later that day for $3500 to a Des Moines couple, William Sezr and Ruth Schuler
Louis Powell home, with 14 acres of land, sold for $3100 to Ingvald Tostenson of Waukon
Blacksmith shop and dilapidated house of Gust Sacquitne sold to Roy Svebakken of Decorah for $900 in a package deal
Almost 50 years after the auction, the town looks tired. Foundations of older buildings, including the old mercantile store, are scattered between the few old homes that still stand, desperate for repair. Only one house has recently been refurbished.
If you happen to know more about the history of Quandahl, please share it! There are apparently two memoirs (first, second) written by members of the Quandahl family, but they are not in any library near here.
Sources:
Iowa Town Goes at Auction, Des Moines Register, 10-03-1966
Town for Sale in NE Iowa, Cedar Rapids Gazette, 9-25-1966
Northeast Iowa Town for Sale, Cedar Rapids Gazette, 9-16-1966 p9
Homes Sold in Quandahl, Winona Daily News, 10-4-1966
Iowa Town Sold at Auction for $15,330, Cedar Rapids Gazette, 10-3-1966
Want Your Own Town?, Austin Daily Herald, 10-23-1966
Quandahl Creamery Business Growing, Postville Herald, 5/12/1927
Transplanted Camera Firm From Brooklyn Ends First Year in an Iowa Ghost Town, Waterloo Daily Courier, 8-24-1947
New Life Seen in 'Ghost Town,' Mason City Globe-Gazette, 8-12-1946
Spring Grove Firm Acquires Camera Division, Winona Daily News, 3/2/1962
Spring Grove Losing Million Dollar Payroll, Winona Daily News, 1/9/1964