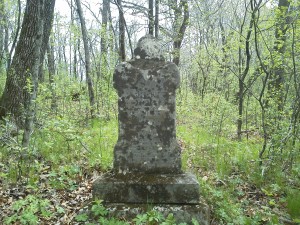 Reader Randy Freese asked about a lonely tombstone on a scenic bluff over North Bear Creek. The grave site provides a broad view over Bear Creek valley and the site of the former Bear Creek Woolen Mill, which was founded by the grave's inhabitant John Munro.
John Munro (b. 10/26/1817, Aberdeen, Scotland) learned the wool spinning trade in England, and, after immigrating to Decorah, he worked his way to the position of superintendent of the historic Decorah Woolen Mills. In 1877, at the age of 60, Munro established his own mill along Bear Creek, producing goods only in the colors of white and gray. Unfortunately he died soon after on November 19, 1881: "Death overtook him, and he was buried on a hill overlooking the valley," an early newspaper said of Munro's passing. The mill went to Munro's son, James B. Munro. A biographical sketch from 1882 shows that he still owned the mill at that date:
J. B. Munro, wool manufacturer and proprietor of Bear Creek woolen mills, Highland tp., Winneshiek Co.; P. O. Highlandville; was born in Canada in 1850; is the oldest son of John and Anna Munro; left Canada in 1863, went to N. Y., remained there one year and then went to Penn., where he lived one and one-half years; then went to Mich. and stayed two and one-half years, when he came to Io[wa]. He lived in different parts of the state until 1879, when he came to Winneshiek Co., and has resided there since.
James B. Munro soon sold out to Nels N. Folkedahl and the mill continued to operate for some years (Folkedahl died in 1920). 
In 1901, the textile manufacturing Blue Book describes the factory as having one carding machine, two looms and two knitters:
The mill shut down in the 1930s, and a flash flood destroyed what was left on June 14, 1950. According to the Winona newspaper:
More than 70 years old, the mill was operated during pioneer days by Nels Folkedahl for carding wool and spinning yarn. After enjoying a steady patronage from communities on both sides of the Minnesota-Iowa line for many years, the mill was abandoned because of changing business conditions. The carding machine was sold and is now in operation at the Decorah mattress factory and the building has been used for farm storage purposes for a number of years.
The mill is located roughly according to the placemark on the map below. Immediately adjacent to the mill site is a place that the United States Geological Survey refers to as "Quandahl Cemetery," though no further information seems to exist about this place.
Do you have photos or more information on Munro's grave site, the Bear Creek Woolen Mill, or the Quandahl Cemetery? Let us know in the comments below! 
Sources: