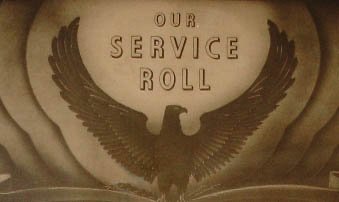 This Memorial Day, NorwegianRidge.com will honor the WWII service members from Hauge Lutheran Church; fortunately, it seems that all came home from the war. The list below has been transcribed from a framed poster in the basement of the church. The original list includes only the name and branch of service, but I have endeavored to fill in a little more information on each person by using church and military records (yet have been unable to identify a couple of them). 
Adolph Anderson. Army
Milo Judeen Anderson. 11/1/1927 –  . Army. 
Norine Arnold Danielson, 6/4/1913 – 10/20/1996. Army. Burial at East Chain Lutheran Cemetery, Martin Co., MN
Roland C Danielson. 12/5/1921 – 10/22/1999. SSgt, Army. Burial at Lincoln Lutheran Cemetery, Ridgeway, IA
Harold E Fadness. 7/1/1923 – 9/23/1967. SSML2, Navy. Burial at Lutheran Cemetery, Decorah, IA
Roger Halse. 1/3/1925 –  . Navy
Kenneth Orval Hanson. 7/10/1926 – 10/1/2004. TEC5, Army. Burial at Hauge Lutheran Church
Norman Olaf Hanson. 9/2/1915 – 1/11/1980. Army, enlisted 9/27/42, released 2/9/46. Lived in Morton, Renville, MN
Lloyd Alvin Hanson. 11/9/1921 – 12/28/2008. TEC 4, Army.  Burial at Hesper Lutheran Cemetery
Melvin Lukken. 12/16/1908 – 9/21/1987. PFC, Army. Burial at Ft. Snelling National Cemetery
Lester N Marlow. 9/30/1920 – 5/1/2004. SSG, Army. Burial at Burr Oak Cemetery
Ervin A Peterson. 1/31/1917 – 5/28/1988. TEC 5, Army. Burial at Lutheran Cemetery, Decorah, IA
Orvin Herbert Ramlo, Sr. 4/13/1919 – 12/8/1977. 2LT, Marines, "Flying Ace" – wounded Solomon Is., Navy Cross – Midway. Burial at Coachella Valley Public Cemetery, Riverside, CA 
Siglief Swenson [Svendson]. 8/13/1900 – 4/9/1975. Pvt, Army. Burial at Hauge Lutheran Church
Clarence H Severtsgaard. 3/20/1917 – 11/25/1989. PFC, Army. Burial at Rock Island National Cemetery
Leonard G Severtsgaard. 12/15/1914 – 4/11/1977. Pvt, Army. Burial at Rock Island National Cemetery
Curtis Usgaard. 8/4/1924 – 12/13/1988. Navy. Burial at Lutheran Cemetery, Decorah, IA